I met Ervin at age 85; he was living with his wife and dog. Ervin had Parkinson's along with severe arthritis. We were recommended by his home care company because he had started to fall on a weekly basis. Ervin's current health situation also included the following challenges: standing up on his own was requiring several attempts, getting out of bed by himself was more difficult and his endurance was fading. Basically, Ervin was losing his strength and independence. He didn't want to stop doing things that he loved to do and being with family was very important to him.
Fast Forward 3 Years with Tandem Strength & Balance
At 88, Ervin was living at home and able to handle his mobility independently. He was working on walking with a cane but used his walker independently. Ervin was very active with his family and was enjoying hunting and family outings without falls. I used to comment to him "your 3 years older and doing better than when you started exercising with us."
Fast forward another 2 years of working with Tandem Strength & Balance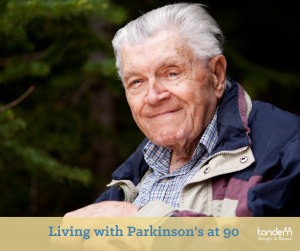 Ervin is now 90. Although he has slowed down a bit and has moved into an Assisted Living, he is living the life he enjoys. Ervin needs very little help standing up from a chair; he is able to get out of bed independently and walks short distances with his walker. Ervin enjoys getting out on his pontoon boat and fishing with his family. He also goes up north to his family cabin and goes "wheeling" to check out deer stands.
Ervin didn't want his age nor his diagnosis to dictate his lifestyle! With his determination and ongoing Tandem Strength & Balance services, he is living life the way he wants to live it. It is such a privilege helping Ervin stay independent and see him happy!
Please use our contact form or email me directly at nicole@sauhome.com to schedule for a free in-home consultation
Inspiring Seniors to be Stronger...Longer!
We help people to understand why they are struggling
and what steps can be taken to make life better.
Free In-Home Consultation