Gwen had shingles and had been

diagnosed with Parkinson's

at 89 when she began working with Tandem Strength & Balance. Struggling through their thought processes, half of the family were listening to doctors recommending Nursing Home placement because "Gwen was going to need assistance for the rest of her life". The other half of the family wanted to see if increasing leg strength and regular exercise could improve her quality of life.
During her evaluation:Gwen needed total assistance to stand and to move from her wheelchair to a chair. She wouldn't walk and standing was very difficult for her, tolerating a maximum of 60 seconds at a time. The family noted that her walking was inconsistent and that they were also struggling with her personality change. She was pleasant but very subdued, didn't smile much and had stopped playing piano which was her passion.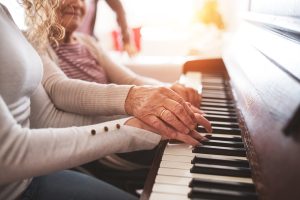 6 Months later:
Imagine the excitement six months later when Gwen made great strides physically and mentally. She became independent with all of her transfers over 95% of the time and walking to all of her meals with a walker once again became normal procedure. Gwen is smiling and laughing throughout her day and she is PLAYING PIANO AGAIN! What a joy for her and all her loved ones as she stands and plays the piano and even sings along at times. Attending events at the Guthrie and other local events are now regular and "must do" activities!
Click here to read another story about a someone living with Parkinson's:
Inspiring Seniors to be Stronger...Longer!
We help people to understand why they are struggling
and what steps can be taken to make life better.
Free In-Home Consultation