Harold has lived with Parkinson's disease for over seven (7) years. He and his wife reside in an Independent Senior Living Community. He WAS very active around the apartment/community and independent with all transfers. He was walking without any device or walking sticks over 2000 feet on good days. At the end of the day, he would use a walker or wheelchair if he was tired. He was able to climb stairs with one railing and he and his wife were very dedicated to regular stretching. He biked for 30 minutes two (2) to three (3) days a week. In addition to that, Harold exercised with Tandem Strength & Balance twice a week.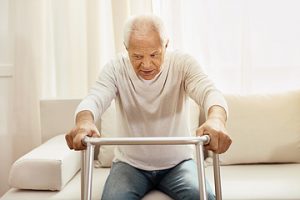 Due to an unforeseen incident, Harold was forced to take a break from working with Tandem Strength & Balance. He not only had a 10-day break from any exercise he was also placed in a respite facility away from his wife, for six (6) days. The respite facility required that Harold use a walker, and he was not permitted to walk or transfer without assistance. This change in routine meant Harold spent most of his day sitting in a chair. This lack of activity resulted in loss of mobility, confidence and function. When he returned home to his wife, he was more stiff, had decreased energy and a decline in confidence. Harold stated that he was surprised at how quickly he became DEPENDENT on his walker. He used the walker as he transitioned back home and his walking distances were cut in half. Once he was back to his previous routine, it took about two (2) weeks for him to regain his "normal".
Research indicates that a person loses strength within 3-5 days after strength training has stopped. When diagnosed with a debilitating disease, it becomes even more important to stay on track with an exercise program. Aging seniors, regardless of age or diagnosis, can trust TANDEM STRENGTH & BALANCE to help them "Get Strong and Stay Strong" and maintain a better quality of life.
Inspiring Seniors to be Stronger...Longer!
We help people to understand why they are struggling
and what steps can be taken to make life better.
Free In-Home Consultation