Arthur, a 91-year-old man, lived with his wife in an apartment. They were the strength and focal point of the family. They did everything together including shopping, going to restaurants, travel and other recreational activities. Suddenly things changed when Arthur fell and broke his arm. He received the maximum Medicare Physical Therapy but still needed assistance with all his transfers and mobility. He became reliant on others for everything and was unable to walk without a walker. Even with the walker, he was unsteady. As a result, he was restricted to staying in his apartment.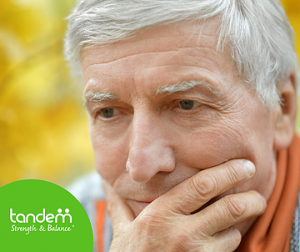 After working with Tandem Strength & Balance for only three (3) months, he was independent with his transfers and mobility. AND, he was walking safely WITHOUT A WALKER!. In a short period of time the strength was rebuilt in his legs which resulted in a restoration of confidence and independence. He started shopping with his wife once again AND achieved his ultimate goal of traveling to Arizona with his family!
Inspiring Seniors to be Stronger...Longer!
We help people to understand why they are struggling
and what steps can be taken to make life better.
Free In-Home Consultation