Correcting the height of a chair is an easy way to improve independence and decrease need for help. A chair that is too low requires more leg strength, which can make it difficult for a person to stand up.The Correct Height of a Chair is when the hips are one inch higher than the knees when sitting.The average height of a chair is 18"-20" high.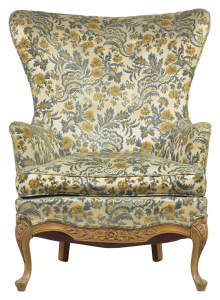 Ways to Increase the Height of a Chair
Here are some easy ways to raise the height of a chair: place a piece of hard foam under the current cushion, build a box to raise the height, or buy a more usable chair.
It is also important that chairs have armrests, are not too deep, nor too wide.
I do not recommend risers because typically the chair slides off the riser when people sit down uncontrollably.
Lastly, it is important that all the places a person sits are the same height: toilets, shower benches, couches, and wheelchairs. This will assist in making mobility more consistent.
Inspiring Seniors to be Stronger...Longer!
We help people to understand why they are struggling
and what steps can be taken to make life better.
Free In-Home Consultation