Dr. Ben

Once a very active man, playing racquetball, golf, regularly attending sporting events and an avid gardener, Dr. Ben found himself at the age of 87 being told by his doctors that because of his peripheral neuropathy he was destined to have poor balance and would end up using a walker. Luckily, Dr. Ben's wife knew better, and she called Tandem Strength & Balance for help.
When I met Dr. Ben, he seemed to have lost his zest for life. He had fallen into the trap of listening to his doctors, thinking he was destined to life with a walker. He walked with small steps, and had trouble getting up from chairs. Dr. Ben was had difficulty straightening his knees when standing, reaching for walls and furniture to stabilize himself. The words "I can't" were prominent in his vocabulary, thus limiting his outings as well as the rest of his daily life.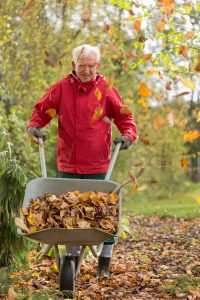 6 Months into Exercise with Tandem Strength & Balance
Six months after working with Tandem Strength & Balance, Dr. Ben is again working in his gardens for hours. "He looks ten years younger than he did ten years ago!" says his wife. "He is so active, he's wearing out everyone else around him." Dr. Ben stated that he's excited to return to his beloved doctor in California to show him what he can do now – what they BOTH thought impossible just a short time ago. He has experienced a total change in his attitude toward life – he is more positive, pushing himself to do more, even to the point of running across the backyard! Dr. Ben is planning his next 20 years, and has a list a mile long of the things he wants to do.
Update 2 Months Later:
Dr. Ben now enjoys being pushed. He even rates the difficulty level of his exercises. He doesn't want to do anything under a 7 out of 10. For those of you who exercise he rates a 60 second plank as a 6/10. Five repetitions of inch-worms as 9/10. It is so much fun to see his transformation. The words "I can't" are no longer present. He can't wait to see what crazy exercise I will come up with next.
Inspiring Seniors to be Stronger...Longer!
We help people to understand why they are struggling
and what steps can be taken to make life better.
Free In-Home Consultation