I personally need a shower to start my day. It is one thing that I rely on to get me going. My shower is like coffee to others. Therefore, I want to make sure that older adults continue to enjoy their showers also.
When I assess a person's shower, here are a few things I often observe: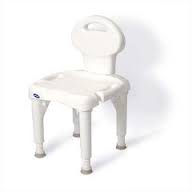 The shower chair has not been adjusted beyond the "out of the box" settings. It is too low. All shower chairs are adjustable. The correct height is when the person's hips are one inch higher than their knees when sitting. This allows the older adult to be more independent and require less help from others.
Secondly, the shower chair is typically very narrow and slim. If someone needs to sit down to shower they most likely are beginning to have difficulty with balance. Thus, it is essential they feel supported and comfortable in the shower chair. The shower chair should have similar dimensions of a regular chair.
The final and most important recommendation is that the shower chair has a back! Not being able to lean backwards to rest and feel supported is one of the main reasons people refuse showers. The back on a shower chair improves safety and makes showering more comfortable.
Inspiring Seniors to be Stronger...Longer!
We help people to understand why they are struggling
and what steps can be taken to make life better.
Free In-Home Consultation