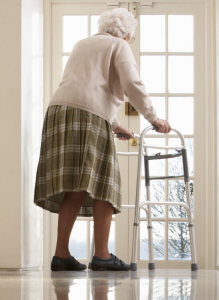 The aging process leads all of us down a slippery slope. Loss of physical strength is a prominent factor in our lack of recognition of our former selves. Our client, Lucy, is a textbook example of this cycle.
Lucy, a 95-year-old woman free of significant medical issues and living in her own home was not living a fulfilled life. Her strength was declining, she required assistance from a rolling walker to get around and began withdrawing from social activities. Her existence was quite limited to the couch and isolation. Her loss of strength had taken away her basic freedoms, thus causing her noticeable depression. Lucy's trust officer noticed these factors and called us.
Tailored Programs
We tailored a strength and balance program for Lucy and wonders commenced. Through increased strength, Lucy grew optimistic of her situation, which lifted her spirits. Lucy is now navigating the world on her own two feet without a mobility device, has increased energy to engage with friends and family and is walking outdoors for pleasure. Lucy's commitment to her Tandem Strength & Balance program has directly improved her interest in life and feelings of fulfillment.
To read another case study about an aging adult please click the following link
Inspiring Seniors to be Stronger...Longer!
We help people to understand why they are struggling
and what steps can be taken to make life better.
Free In-Home Consultation