Choosing a home care provider can be very stressful; especially for people who are not in or familiar with the medical field. It is very important to find the correct fit for you and your family member. It is also extremely important for everyone involved to be comfortable with the staff that is chosen to work in your loved one's home. When doing the research for this important work, treat it like a job interview and don't settle for less than what you desire for your loved one.
Speak with 3 companies minimally. This allows a comparison of services and philosophy. Have all the decision makers at each meeting and if possible have one person take detailed notes.
NURSING
The nurse is the most critical piece. Not only are they responsible for designing the care plan and oversight of the caregivers, they are typically the first to be notified concerning medical issues. Many older adult's medical needs are complex so having a nurse that will investigate issues is very important. Make sure the nurse's philosophy and yours match when it comes to medications, hospitalization, aging, etc. Be very clear about your expectations: i.e. "I do not want my Dad to ever use a mechanical lift. What is your company policy on lifting?" or "I want my parent to keep walking? What is your procedure if you see a change in walking ability?"
Gaining some basic knowledge on home care rules and regulations prior to
meeting with a company is very important. The MN Dept of Health is a great resource. i.e. "How often does the state require the nurse to do visits? Can I
request more?"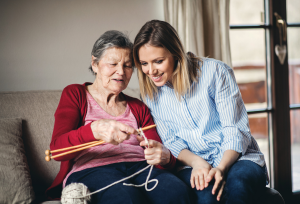 FEES
How often does the nurse visit and is there a fee?
Are their exit fees if we stop services?
Besides the hourly rate are there any extra fees I should be aware of?
CAREGIVERS
Make a list of criteria for the caregivers who are working with your loved ones. Do not feel bad if you have specific needs. It makes the relationship better for all involved.
Gender of caregiver
Consistency of caregiver – one only or is a variety acceptable
Weekend availability
Schedule flexibility
Ability to take on outings
Do I get to interview potential caregivers?
What happens if someone doesn't show up for a shift? What is the expectation for shift coverage?
CAREGIVER TRAINING
What training do you do and how do they show competency?
Who trains new caregivers regarding my loved one's expectations and routine – the nurse or other caregivers?
How are changes in care reported to the office? Is a specific family member notified of changes?
No company is perfect so inquire about conflict resolution. Who do you call if you have an issue with a caregiver? Who do you call with scheduling issues? How quickly should you receive a response?
EXPECTATIONS
Make a list of things that are important to your loved one. How can you ensure these things continue to be consistent?
Home cooked meals
No wheelchair use in house
Outings one time per week
Watch a specific show weekly
Shaved every day
Up by 9 am
It is important that you pick the correct company for you and your loved one. Your number one priority may be completely different than another person's priority. When you explain your expectations to each company, the one that is suited for your situation will rise to the top.
With questions about home care providers in Twin Cities/Metro Area please email me at nicole@sauhome.com
Inspiring Seniors to be Stronger...Longer!
We help people to understand why they are struggling
and what steps can be taken to make life better.
Free In-Home Consultation