Cathy, a married woman with two young children, suffered an aneurysm in her early 30s. After experiencing about a 75% recovery, she was able to take care of herself, walk short distances, raise her children, travel and be active in numerous community activities. She was determined to live her life to the fullest without putting limitations on herself or her family.
Some 40 years later, Cathy became a client of TANDEM STRENGTH & BALANCE. She and her husband were still able to live in their home but with limitations. Cathy was now wheelchair bound and needed physical assistance with her transfers. The extra stress on her body over the last several years had taken its toll.
Cathy and her husband wanted to take one more trip before the physical difficulties escalated any more. Fortunately, with the help of the TS&B therapists, Cathy, her husband and six (6) other family members, were able to accomplish that goal by making a trip to London.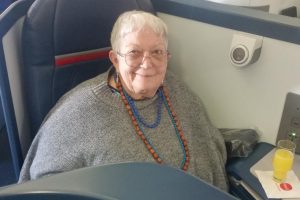 After a three-year sabbatical and a decline in her function, Cathy returned to TS&B. She now required a mechanical lift to transfer, her balance while sitting was quite poor, she was battling depression and her husband was having to help her with everything. Working with TS&B therapists brought about noticeable improvements for Cathy.
It was time for "ONE LAST ADVENTURE". She had gained enough leg strength that a companion could now help her with all her transfers.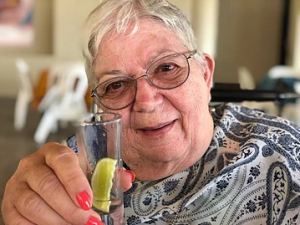 To the amazement of everyone who knows Cathy, a cruise to Italy and Greece was booked and in the past three (3) years, she and her family have taken four (4) cruises. They are making memories and investigating places they have never been to before. The wheelchair is not a limitation for her or her family. Cathy's confidence and self-pride have increased dramatically since she started working with Tandem Strength & Balance
Inspiring Seniors to be Stronger...Longer!
We help people to understand why they are struggling
and what steps can be taken to make life better.
Free In-Home Consultation